I was honored to receive the Red Cross Everyday Hero for March of 2015. On June 25 I was invitedto the 2015 Red Cross Everyday Hero Luncheon in Cape Girardeau, MO. There we were each given medals of appreciation for our service to the communities around us. It was an honor to stand on the stage with the other 2015 Heroes.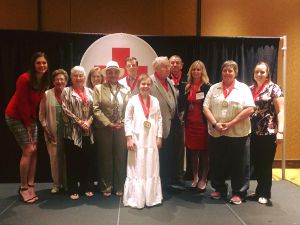 Thank you to LaRae Long for her nomination of me for this award and KFVS TV's Mollie Lair for the interview and riding along as we delivered our 1500 basket in March 2015.  I also want to thank all of our volunteers and those who support us with donations and encouragement.
If you would like to help us bless others with a "Laundry Basket Full of Love" you can do so through our pay pal link or mailing address (all donations are tax deductible). If you buy from Amazon you can go to Amazon.Smiles and put in Laundry Baskets Full of Love as your charity to support and Amazon will donate a portion of your purchases to us. Thanks to all who have helped up through purchases from Amazon.Smiles.
Thank you in advance and God Bless!