We were asked to attend the J.O.Y. women's group of Tanner Street Church of God of Sikeston, MO on June 18 to accept some donated baskets that the ladies had collected up for LBFOL. We are so grateful for their support and donations.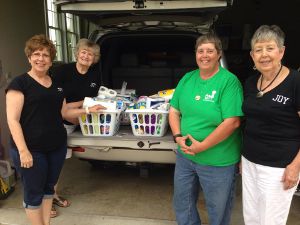 True to the meaning of their initials J-Jesus first  O-others next Y-yourself last.  So thankful for these ladies and their willingness to help us Deliver God's Love one laundry basket at a time.
We were also able to deliver one of those baskets to a senior widow lady tonight bringing our total baskets delivered to 1533. We will be delivering more baskets this weekend.
If you would like to help us help others you can send a tax deductible  donation through our pay pal link or our mailing address.  Thank you in advance and God Bless!   Marilyn