We will have a booth set up at the downtown Sikeston Rodeo Cowboy Up Festival this Saturday August 9 starting at 9:30. We will be selling drinks, cotton candy, T-shirts, necklace pendants/pins and solar dancing flowers. This is a great time to come out and support LBFOL. There will be a rodeo parade that starts earlier and will end downtown around 10:00. Then meet the rodeo clowns right after the parade, petting zoo and much more. You don't want to miss it and be sure and stop by the pink tent and support LBFOL.
We also wanted to post a picture of the raffle winner of the Henry Silver Eagle 22 rifle and shells: Jerrod H. of Sikeston, MO.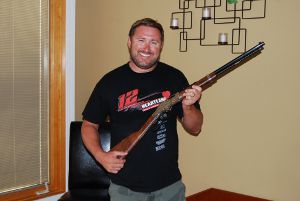 Thank you so much to all who bought tickets and helped us raise over $3000.00 during the raffles and Tour De Corn event. Look forward to seeing everyone next year and having more raffles to win.
We delivered seven baskets over the weekend that makes our total baskets given at 1145. Thank you so much to all who are giving us names of those in need and for those who are donating. We also received some basket items last week. Thank you to Nancy B. for your donation. If you would like to donate please check our contact us link there you will find our pay pal link and also our mailing address.
God bless you and thank you in advance,   Marilyn