We had some little helpers with us when we delivered a basket to an elderly man in one of the apartment complexes in our town today.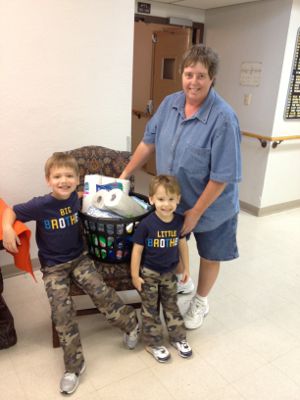 As we walked into the building we heard a couple of ladies talking and one said "that's the baskets of love people". We stopped in the lobby to get a picture of the basket with our two little helpers that went with us today.
We delivered the basket and the man was very happy to get it. As we left his room one of the ladies from the lobby had followed us up and lived in the apartment next to him. She asked if I was Miss Hull and said she was so happy to finally meet me. She was with the Foster Grandparents program and had benefited from LBFOL baskets. She asked if we accept donations of money and when I said yes she said, "Let me give you something." As I went into her apartment and she got the donation, she said, "This isn't much but you have helped me way more than this donation amount" and thanked me.
We're always very thankful to be able to deliver God's love one laundry basket at a time and meeting the recipients of the baskets is very humbling. I am so blessed and I thank God every day for what He is doing through LBFOL and with your help we will continue to help those who are in need.
Thank you to my mom, sister and little helpers Cody also Lucas! Also, thank You, God, for directing my path to cross with Mrs. C today. Makes me more determined to get baskets out there to those who are in need. If you would like to help please check the How can I help page.
Thanks in advance,
Marilyn