What a blessed day we had at LBFOL! We received a couple of donations–one from an old school friend (thank you D!) and another one from some new friends we met last year (thanks L & S). I was told yesterday that a local church,Nelson Memorial United Methodist Church in East Prairie, had volunteers in front of Fred's Discount, Dollar General and Town & Country Mart in East Prairie, MO this past Saturday for their SERVE2012 mission event. They were collecting donations of cash or items for their Food Pantry and for LBFOL!
My mom drive over this afternoon to pick up the donations from them. I met her there on my break from work and went in to meet Mrs. Howton and Pastor Nathan to get the donations. I was amazed at the large amount of donated items.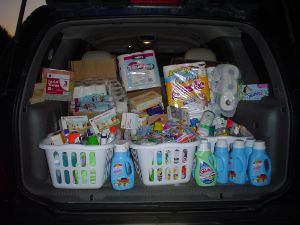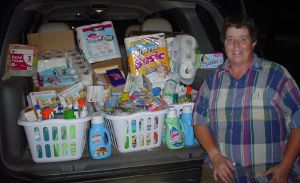 They said the response from the East Prairie community was overwhelming. People had heard of LBFOL and wanted to help. One family didn't have enough money to donate so they came to the church later with a cash donation from their check which they had cashed so they could donate! God Bless them and all who donated!
I want to thank Pastor Nathan and the congregation of Nelson Memorial United Methodist Church of East Prairie, MO and the community for their donations to LBFOL! Your kindness is very much appreciated and I know others will be blessed by your generosity!
If you would like to help us by donations or volunteer work please check out the How can I help and Contact Us pages.  We have been contacted through the Web site and Facebook by several people wanting to volunteer in some way, giving us names of people who need help and even one who would like to start their own LBFOL in Colorado!
If you have messaged or emailed us, I will be getting in touch with you. I usually respond in the mornings or later at night after work and on the weekends.  Thank you so much to all who are interested in helping! We never have enough volunteers and we welcome your help!
God bless you all,
Marilyn Hull
Founder/President of LBFOL