This has been an awesome couple of weeks!Last Friday we delivered our 100th basket to the Davidsons of East Prairie, MO and by Monday we were up to 104 baskets delivered.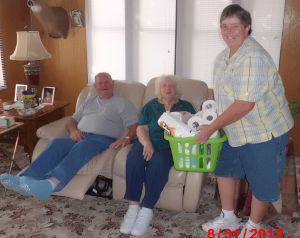 Tuesday we made front page of The Courier Enterprise Eagle of East Prairie, MO (thanks to Adam and the staff).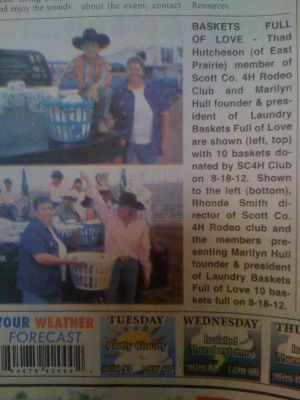 Then on Friday, September 8, we made front page news in the Standard Democrat of Sikeston, MO (thanks to Leonna and the staff). We also were on the Standard Democrat's Web site home page.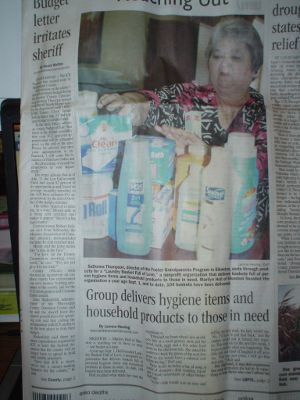 WOW! Front page news in two papers  and news Web site all in one week! AMAZING!!! Thank you to all who are helping us do this!
We also received several donations during the past couple of weeks with a donation today from another long-time friend.  Thanks, S, for your donation! We received two very sweet thank-you cards from two senior ladies we delivered baskets to last week. They both were so thankful to LBFOL and the donations helped a lot.
Also, we got word from a mother with two young boys who was overwhelmed with joy when we delivered their basket Monday. When she received the basket she said, "Wow that is like $50 worth of stuff I could never afford but we need it so badly," and "This week has been the best week ever!"
That really hit me that just one LBFOL could bring that much joy to someone and it doesn't sound like much to us who have plenty of what we need to wash with, bath with, clean with, etc. It humbles me when I see so many that are in such need of just the everyday "extra" stuff I take for granted. I am grateful that God is allowing LBFOL to help others who are in such need and thankful to all who have donated and helped.  It is only with your help that we can continue delivering God's Love one laundry basket at a time.
If you would like to help please check out the How can I help page, or if you want to contact us with names of those who need a basket please check the Contact Us page. We have a PayPal link and also an address link on those pages for donations.
In the words of that grateful mother who received a basket this week, "THIS WEEK HAS BEEN THE BEST WEEK EVER!"
Thank you,
Marilyn Hull
Founder/President
Laundry Baskets Full of Love