With the help of friends and family we were able to deliver our 100th LBFOL early last night to a elderly couple, the Davidsons, who had lost everything in a fire just a few days ago.  
The fire started in the middle of the night and they escaped through a window to safety. They are staying with Mr. Davidson's sister and when we went to deliver the basket they were having supper.  He was in a recliner with his feet propped up and covered from the burns that he suffered when he returned into the burning home to try to save some of their belongings.
When we asked if we could take a picture, they were eager to do so and, despite the fact that they both lost their false teeth in the fire, they still gave us a smile and were so happy to receive the basket. There were other family members there that shook my hand and gave us big hugs of appreciation.
If you would like to help them in some way, please visit their Web page. They wanted to thank each of our supporters and volunteers for the basket! God Bless each of you!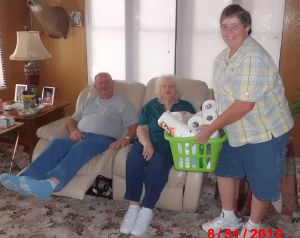 We delivered two more baskets last night and this morning. Thanks to all who have helped us, making it possible for us to deliver 100+ baskets in our first year! Praise the Lord!! We couldn't have done it without the support and help from my Mom, sister Diane, brothers Harvey/Karen, Darrin/Lisa and my niece Tanya/Scott. The moral support and help they have given has been truly a blessing and I love them very much!
A BIG thank you goes out to all who have donated items, money, given us names of those who needed help and delivered baskets. Without your help we could not continue to do what we do.
I am looking forward to another full and busy year with LBFOL! Who knows where we will be on September 1, 2013? Won't you help us bless others as we deliver God's Love one laundry basket at a time? I know you will be blessed!
Laundry Baskets Full of Love is legally recognized a not-for-profit corporation with a 501(c) 3 status so all donations are tax deductible. If you would like to donate to LBFOL please visit our How Can I Help page.  You can give through PayPal or mail your donation through the information at that link.
Thank you in advance!
Marilyn Hull,
Founder & President of LBFOL