Today was a great day for LBFOL! I want to thank my Mom for helping me get items ready for the baskets and helping get them together and delivered! Today we were able to deliver a basket to a disabled couple living on a limited income. She was so happy to get the baskets and was so appreciative!
We also took three baskets to Nancy & Sheila at the Charleston Senior Center. There was a look of surprise at the size of the baskets and all the donated items in them and it quickly changed to gratefulness and appreciation of what we at LBFOL are doing. Thanks to all who are helping with donations, prayers and distributing the baskets.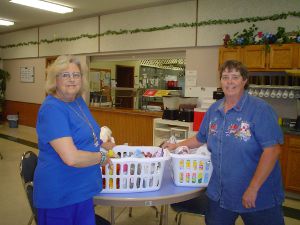 We also received another donation through our Paypal link just the other night. Thanks A.L. for all you do in helping us fill baskets for those who are struggling with buying food, medicine or household/personal hygiene products. God bless you!
We will be delivering two more baskets later this week to our church who within the first few days that we delivered the baskets last week they already have given them out! Thank God for our pastors Len & Judy who feel the call and want help those in our community.
Thanks again to all who are helping in this ministry! I know God will bless each of you!
Marilyn Hull-President