Summer is upon us and it is HOT! Not only outside but also the great deals I am getting for items to put in the LBFOL! We delivered two more baskets this morning before church! These will help a couple of families in our area that are struggling on a daily basis.
I was able to buy some more items for the baskets this last week with help from coupons donated by the Foster Grandparents and from our Sunday St. Louis paper. If you have coupons that you are not using and would like to donate them to us, please leave a message here, send us an email or mail them to us. Just check out our Contact Us page to send an email or find our mailing address there.
Even coupons that expired up to 6 months ago are still valuable.  We donate those to the military families who are able to still use them at Couponing-4-the-Military.  I know they appreciate all we send to them and I thank Heather for her help in sending coupons on to them.
I also worked on getting the LBFOL items put on shelves in an extra room in our house.  They had been in the garage stacked around on card tables, a shelf and the floor, but with the weather getting much hotter, we felt it would be better in the house so Mom donated half of her ironing/computer room so we could store the items.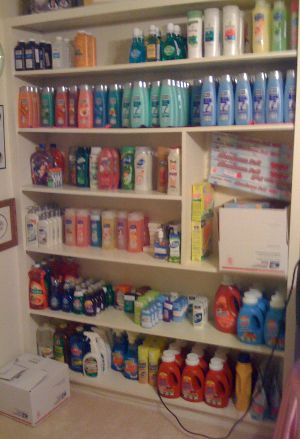 This is a picture of a small part of what your donations are helping us buy to put in the LBFOL baskets. We also have paper towels, toilet paper, bleach, toothpaste, tooth brushes, denture cleansers/paste, fruit, nuts, cereal, water, juice and other items stored in other parts of the house.
With your donations we are DELIVERING GOD'S LOVE ONE LAUNDRY BASKET AT A TIME!!!!! It is such an honor to be able to help those who are struggling daily to decide if they should buy soap, medicine or food! I pray that each laundry basket makes their decision much easier and less stressful! With YOUR help we can continue to help them.
If you would like to to make a donation, our mailing address is:
LBFOL
P.O. Box 382
Sikeston, MO 63801
Or donate to us online through Paypal.
Thanks again and God Bless each of you.
Marilyn
President of LBFOL