We participated in our first Sikeston in Bloom Event on May 3. We had some awesome help getting things organized and help during the event. I have to give a big thanks to LaRae, Chanda, Diane C, Diane H, Tanya, Cody and Connor for you help during this event.  I also want to thank long time friends Brenda & Alan for helping us get everything loaded back up after the event. We had a lot of fun and lots of friends and visitors who stopped by our booth in support of LBFOL. We had several raffles given away, we sold sodas, water, cotton candy, peanuts, pop corn, T-shirts and dancing flowers. We had fun for the kids and adults with a balloon pop and spin the wheel to win prizes. These were a big hit and they really enjoyed the fun of those games. We also sold raffle tickets for the Henry Silver Eagle 22 rifle. The drawing for it will be during the tour de corn in East Prairie, MO on June 28. We are selling only 300 tickets at $10.00 each and they are selling fast. If you would like to purchase one you can reach us through our contact us page or through our face book page.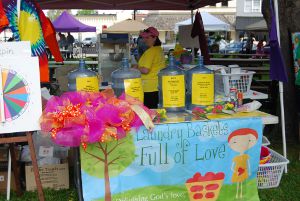 Just over a week ago we had some major flooding take place in and around our community. One small town just south of us was hit really hard. Over the last week we have delivered baskets to those who were flooded out of their homes and in most cases have lost everything. Such devastation as I drove through one street to deliver baskets.
If you would like to help us bless others with a laundry basket full of love please consider donating through our pay pal link or our contact us page.
All donations are tax deductible and very much appreciate.
Thank you in advance and God Bless!