When we scheduled PCB 2013 for December 7 there was one family that was a little disappointed because they had a birthday celebration party already set up for that day. They still wanted to help us at LBFOL, so they decided that, instead of gifts, they wanted family and friends to bring donations for LBFOL.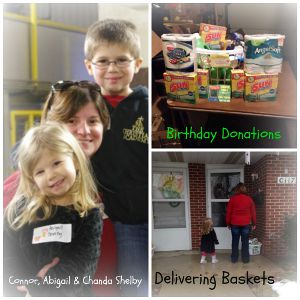 When the ice storm hit and we had to reschedule the event, the Shelbys were very excited that they would be able to help. The mom, Chanda met us on the day of the event with a basket full of items that had been donated at the birthday party the week before, along with monetary donations they had collected as well.
Thank you so much Connor, Abigail and Chanda for your support with LBFOL!