I had a busy day today being off work for a doctor appointment, checking on my mother who was moved to a rehab hospital following heart surgery, and meeting with our local Kiwanis club to speak about LBFOL.  Even after all that we managed to deliver 8 baskets and pick up a great supply of items donated from the Fall Mini Session photo shoot this past weekend by Malory from GingerSnapz Photography.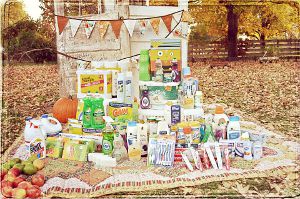 A big thank you goes out to Malory and all those who participated in in the event. In total, there were 22 who took advantage of the opportunity to get great quality pictures for just $15 and two items to donate to LBFOL.  When it was all done, she had collected 146 items for our baskets. Awesome!
That brings our total items donated to LBFOL to put in the baskets to 1112! Please check out the GingerSnapz Photography Facebook page and thank her personally.
The 8 baskets we delivered today brings our total number of baskets delivered to 133! Thanks to all who have donated and helped us get there.
Our big day is coming soon!  Project Christmas Basket is December 8, 2012. We will be delivering 100 baskets to two local senior citizen apartment complexes. We have collected a lot of items and more than $1400 of the $3500 that we need to get 100 baskets filled.  We're so thankful to all who have donated for this.
We have sent out several letters and will be sending out more this week. We have a Facebook event page and there is also a fill-a-basket Facebook page set up. If you are on Facebook, please check those pages out, spread the word and join us in giving some senior citizens a merry Christmas this year.
If you would like to donate online, please visit our Donate page or if you would like to send a check or money order, you can get our address from our Contact Us page. If you live in the Sikeston, MO area and would like to donate items, there is a drop-off basket in Paul's Christian Book Store at 114 E. Front in Sikeston.  If you don't know what to donate, check out our Whats in a Basket page for a list of items we need for the baskets.
Thanks again to all those who have donated and helped us! We can't do it without you and I know God will bless you!
Marilyn Hull
Founder/President