We've had a very busy last 3 days getting 8 (yep I said 8, as in eight) baskets ready to go to the Chaffee Senior Citizens, Foster Grandparents group of SE MO, East Prairie Seniors Nutritional Center and The Amen Center of Delta all in one day. I also mailed out a smaller box to a family of four who had been burned out of their home.
We started off with a trip to Chaffee to meet Pat at the Seniors Housing Center and left 2 baskets. She said the people were so thankful for the baskets we took right before Christmas and the needs just keep coming in daily of those who are struggling with the decision to buy food or medicine and just doing without soap, laundry detergent or other household/personal items. She said she would have these handed out in no time and was so appreciative of Laundry Baskets Full of Love!
Our next stop was The Amen Center just outside of Delta where we met with Shirley to deliver 2 baskets, 10 gallons of milk and a tub full of books. They were so thankful for the donation and hugs were given all around. What a blessing Shirley and Danny are making in the lives of people who are recovering from setbacks, crises or tragedies that have left them homeless and needing a place to stay for a transitional period. When we were there a couple months ago there were about 50 living there now there are 27 with room to house and help 150. Keep The Amen Center in your prayers!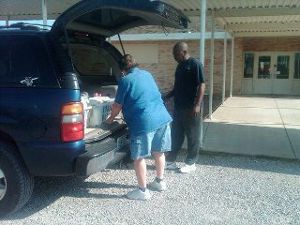 Next we stopped off back by the house to pick up 4 more baskets and off we went to the SE MO Foster Grandparents group. We met SaDonna and Lori to deliver 2 more baskets to them. They are always happy to see us and relay stories of how much the grandparents are thankful for the much needed items. They also collect coupons to help with the purchase of items for the baskets.
Last stop was to the East Prairie Seniors Nutritional Center where we met with Sari to deliver 2 more baskets. We had taken baskets back in October and before Christmas. She wants to get the word out to the town and county about LBFoL and is setting up a time with the local newspaper to take pics and interview about what we at LBFoL are doing! This will be a great blessing in getting more involved in the donating and receiving of baskets.
I just want to say thanks to all those who are getting the baskets to the families in need! It blesses me to see those who are excited and willing to give names and deliver baskets to those who need help. Thank God for each of you!
If you want to help us help others, you can donate via Paypal or by postal mail! If you want to donate a certain item or items, check out our list of what's in a basket and you can send them or drop them off here in Sikeston (just message or email me for the drop off address). Thanks again to my sister Diane and my Mom Blanche for helping me get ready and deliver baskets!
God Bless each of you!
Marilyn
Deuteronomy 24:21 ~ When thou gatherest the grapes of the vineyard, thou shalt not glean it afterward: it shall be for the stranger, for the fatherless, and for the widow.