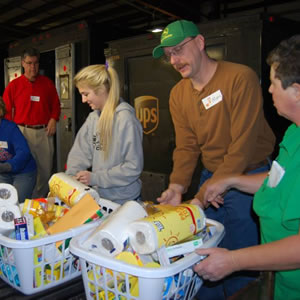 Laundry Baskets Full of Love delivers laundry baskets filled with household cleaning supplies and personal care and hygiene items to the homes of our many elderly neighbors and those who have suffered catastrophic loss in the Southeast Missouri area.
We deliver individual baskets throughout the year based on recommendations from concerned neighbors, family members, social workers and service organizations, like churches and civic groups. We also host large events, such as our annual Project Christmas Basket and Make a Difference Day, where our army of volunteers gather to fill and deliver hundreds of baskets in a single day of changing the lives of others in need.
We are proud of and humbled by the many partner organizations that help us with donations and services, like helping with events and serving as drop-off points throughout the year including:
Blades Family Hair Care, Sikeston
Altrusta Clubs of Dexter and Sikeston
Century Casino, Cape Girardeau
Compassion Church, Sikeston
Diane's Accounting, Sikeston
Eagles Club, Sikeston
East Prairie Assembly of God, East Prairie
Elks Club of Sikeston
First Christian Church, Sikeston
Hunter Memorial Presbyterian Church, Sikeston
Lions Club, Sikeston
SEMO Health, Sikeston
Sikeston BMU
Standard Democrat, Sikeston
Tanner Street Church of God, Sikeston
Trinity Gospel Church, Sikeston
United Parcel Service centers in Sikeston, Cape Girardeau and Poplar Bluff
United Way of Southeast Missouri
What's the Catch?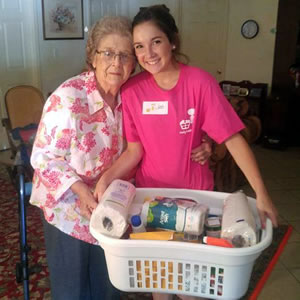 There's absolutely no catch to those who receive a basket. Each one is a gift with no strings or requirements. Whatever their situation, we want them to know that there is hope, and we trust that their basket will be a symbol of encouragement to them and a continuing reminder that there is a community that cares about them.
When the basket is emptied, we ask that the recipient use it to do laundry or other household chores, and when they do, to please remember to say a prayer for the many volunteers and donors that make up Laundry Baskets Full of Love.
We know that situations are mostly temporary, and we trust that at some point in the future, they will remember the gift of their basket when they have a chance to help someone else.
Learn more about LBFOL