I had a message sent to me on Mother's Day night from a friend who wanted to donate a basket in memory of her Mother who passed away in December of last year. She saidher daughter was living across the country and she was alone on Mothers Day and instead of feeling sorry for herself she decided to do something in memory of her Mother, so she went to the store, bought a basket and filled it to the top with items from our LBFOL basket items list and donated it to LBFOL in memory of her Mother.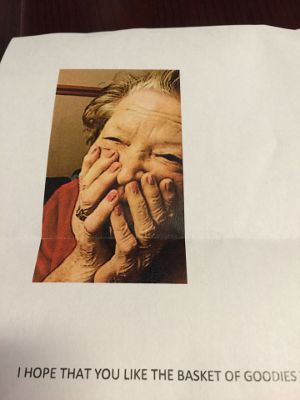 As I delivered 10 baskets today I went by and picked her basket up.  I will be giving it away in the next few days to very deserving senior couple or single. There will be a note and picture of her Mother (Ada) in the basket. She wanted to challenge others who have lost their Mothers to donate a basket in memory of their Mother or maybe for Fathers Day donate one in memory of your Dad. I think this is a great way to honor the life of your loved ones.
If you would like to make a donation in memory of a parent, grandparent or loved one you can do so through our pay pal link or mailing address. If you live in our area (Southeast Missouri) and would like to donate a whole basket you can click our contact us link or  message us through our Face Book page.
With the deliveries we made today we are at 1528 baskets delivered since beginning in 2011. Thank you so much to those who have donated and put your support to LBFOL and those who have volunteered your help in getting baskets ready or delivered them. We couldn't do this with out each of you. Thanks in advance and God bless.  Marilyn