On Thursday October 11, 2012 LBFOL attended our first health fair in East Prairie, MO.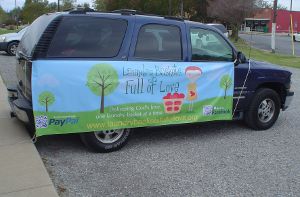 We put one of our banners outside to draw attention to what was going on inside the Nutritional Center.
Inside, we passed out free toothbrushes and let people pick out items from a sample basket. Most of the senior citizens had heard of LBFOL and expressed their appreciation for what we are doing.
We were introduced to several healthcare associates who had not heard of LBFOL and they were very excited about our organization. They took cards and flyers to pass out for us and are getting names of those in need of baskets.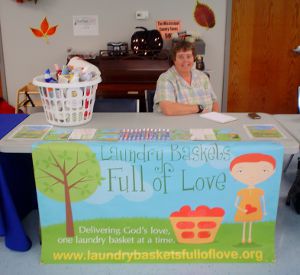 We want to thank the East Prairie Nutritional center for inviting us to participate in the health fair. It was a great experience.
We also delivered four more baskets today. One went to a family with a small son who lost their home to a fire earlier this week. They were so  appreciative of the basket. When the young boy saw the Star Wars light-up toothbrush he was so happy and said "wow I got me a new toothbrush but my teeth are falling out." I was told by his grandmother that it was the same toothbrush he had before the fire.
It still amazes me how God directs and leads in ways as simple as to buy a Star Wars toothbrush for a little boy who had lost the same kind of brush in a fire!
If you would like to help us deliver God's love one laundry basket at a time please check out our how can I help page.  I know you will be blessed.
Thanks in advance,
Marilyn
Founder/president