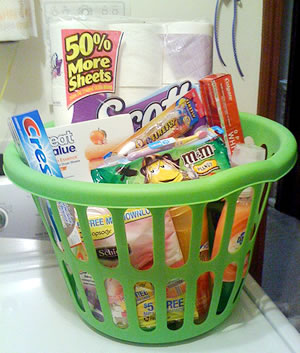 We started in September of 2011 and by the end of the year were able to give 20 baskets away. God has blessed us to help others. Our volunteers range from two years old to over 80.
Our desire is to help those who are having a hard time with the "extras" in their lives–the daily household and personal hygiene items that most of us take for granted and don't consider to be extras at all.
There have been so many that have been touched by this ministry, both by receiving a Laundry Basket Full of Love or helping by donating items, time and/or money.
Thanks to all who have come on board in this blessing from above! We know God will Bless all involved!
Give, and you will receive. Your gift will return to you in full—pressed down, shaken together to make room for more, running over, and poured into your lap. The amount you give will determine the amount you get back.  Luke 6:38 (NLT)